IPA II - Photovoltaic Systems as Actuators of Regional Development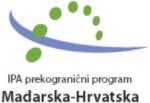 Financed within Hungary-Croatia
IPA II Cross-border Cooperation Program
About the project:
Project: Photovoltaic Systems as Actuators of Regional Development
Lead beneficiary: Faculty of Electrical Engineering Osijek
Project partner: Research Centre for Economic and Regional Studies, Hungarian Academy of Sciences, Pécs
Total project budget: 123,108.50 EUR
Project duration: 1st March 2013 - 30th June 2014
About the project team:
Project team:
Project aim:
The overall objective is the development of an optimal PV system configuration for climatic conditions of the cross-border region and research on the impact of PV systems on the electrical power system, the economy and environment. The short-term goal involves data on the optimal photovoltaic system configuration while the long-term goal includes the increase in electrical energy generated by PV systems in both countries. Specific objectives are the development of a common knowledge database about area characteristics significant for the application of photovoltaic systems, and establishment and development of a cross-border innovation network of research teams for development of photovoltaic systems. Moreover, the project aims to develop an optimized photovoltaic system suitable for our climatic conditions in terms of selecting the most appropriate solar cell technology (monocrystalline, polycrystalline, amorphous) and enhance co-operation between scientific institutions and participants in the economy interested in the application of photovoltaic systems. It should be pointed out that this project is in accordance with the development strategy of the Faculty of Electrical Engineering in Osijek as well as the Osijek-Baranja County.The project will take place in the region covered by the Danube Strategy.
Lead beneficiary:
The Faculty of Electrical Engineering is a public research and educational institution operating in five counties. The Faculty follows trends of higher education in both Croatia and Europe in terms of study programmes, personnel, space and laboratories. The Faculty has 8500 m2 of space with 12 classrooms, a videoconferencing classroom, 8 computer classrooms and 20 state of the art laboratories. In addition to the successful realisation of study programmes, the Faculty (together with several Croatian and European research and educational projects) has long and successful business cooperation with major technical systems like HEP, HT, Siemens, Belišće, etc. Furthermore, the Faculty has successful collaboration with universities, institutes and faculties from Germany, Austria, Belgium, Sweden, Hungary, Serbia, Slovakia, Spain and other European countries. The Faculty offers two lifelong learning programmes and has very rich publishing activities.
Project partner:
Research Centre for Economic and Regional Studies, Hungarian Academy of Sciences, Pécs (MTA- KRTK)
Project background:
European Union has recognised the potential in conducting research in the fields of energy efficiency and renewable energy sources. Being a new technology, photovoltaic systems need to be further studied. During their study tour in Barcelona, the project team met with the experts from the Polytechnic University of Catalonia who presented their work thus inspiring the project team for their own research. Eastern part of Croatia and southern part of Hungary have similar climate conditions; hence a joint research in the respective area was a logical step. Based on their activities in the fields of economy and environmental protection, Hungarian Academy of Science, Centre for Regional Studies has proven to be a competent partner in this project.
Target groups:
Direct target groups are members of the Faculty of Electrical Engineering in Osijek and Research Centre for Economic and Regional Studies, Hungarian Academy of Sciences in Pécs. The project research teams will benefit from the project in terms of setting up laboratories and enhancing the joint cross-border research programme. Indirect target groups are members of scientific communities in the field of renewable energy sources, especially photovoltaic systems and designers of photovoltaic systems. Furthermore, indirect target groups involve participants in the economy and potential private investors who could be stimulated by the project results to invest in photovoltaic systems. The Hungarian and the Croatian economy will generate savings on fossil fuels by introducing a more efficient energy source. The action will produce a spillover effect and stimulate others to utilize renewable energy sources.
Project benefits:
ETFOS project team will use innovative methods in measuring and testing photovoltaic systems. Members of the academia in the field of photovoltaic systems will benefit by getting new data on optimising photovoltaic systems. Furthermore, a joint database on photovoltaic systems application will be created. Finally, teams for innovative research and further photovoltaic systems development will be formed.